when marcos declared martial law in 1972, filipino artists began to skirt around chaos and propaganda by coming up with artistic creations that supposedly celebrated nuances of what can be considered "philippine". a number of filipino artistic creations in literature, music, dance, visual arts, film, television, etc. also contained thinly-disguised political messages that narrowly escaped the prying eyes of the local board of censors. this scenario was clearly evident even after the rise of original pilipino music (opm), also during that time.
so to propagate the ideals of the "new society", first lady imelda romualdez marcos, daughter imee marcos sought the assistance of many brilliant people--journalist teodoro valencia, unilever philippines executive bert timbol, philippine women's university music professor lucresia kasilag, and broadcasting executive antonio barreiro to help establish the popular music foundation of the philippines in 1976. university of the philippines alumni were tapped to serve as project coordinators: recording industry executive/musical artist roger rigor, broadcast media council / kapisanan ng mga brodkaster sa pilipinas (kbp) operations director emmie joaquin and jun magsalin. the pop music foundation became responsible for staging the annual metro manila popular music festival (metro pop) from 1978 to 1985. in principle, the festival was meant to showcase what imelda had conceptualized as "the true, the good, and the beautiful" but occasionally, songs that qualified for the annual finals, especially during the last two years, were so-so—of little artistic or commercial quality. on the whole, a notable list of finalists and winners emerged. the annual staging of the festival convinced many radio stations to include more filipino artists in their daily roster. and the festival enabled filipino composers, lyricists, lead vocalists, instrumentalists, back-up singers, record producers and many others in the music industry to exercise their creativity while having additional sources of income for their families. even more importantly, the likes of freddie aguilar's "anak" (1978); heber bartolome's "tayo'y mga pinoy" (1978); sunny ilacad's "saan ako patutungo?" (1978); snaffu rigor's "bulag, pipi at bingi" (1979); jose mari chan's "hahanapin ko" (1980); juan miguel salvador's "magkaisa" (1981); conrado ricafort's "hatinggabi" (1981); mon del rosario's "sino ang baliw?" (1981) and "kahit ako'y mahirap" (1983); gary granada's "kahit konti" (1981), "sa aking kubo" (1982) and "salamat, salamat musika" (1985); aniano montano's "babae ka" (1981); venancio saturno's "isang dakot" (1982); and butch monserrat's "kagandahan" (1983) defied severe restrictions on public expressions of opinions by taking subtle swipes at the marcos regime while avoiding detection and arrest.

meanwhile, ryan cayabyab's "kay ganda ng ating musika (interperted by hajji alejandro); rigor's "bulag, pipi at bingi" (interpreted by freddie aguilar); nonong pedero "isang mundo, isang awit" (interpreted by leah navarro, wearing a smashing white outfit designed by gang gomez); topy lozano's "ikaw, ako, tayo, magkakapatid" (interpreted by the new minstrels); gines tan's "magsimula ka" (interpreted by leo valdez); and jun latonio and tillie moreno's "nothing i want more" (interpreted during the festival by the new minstrels and overseas by eugene villaluz and louis reyes) won major prizes in international music festivals. others like aguilar's "anak"; louie ocampo's "ewan" (interpeted by apo hiking society); butch monserrat and gryk ortaleza's "umagang kay ganda" (interpreted by tillie moreno/ray-an fuentes); granada's "kahit konti" (interpreted by florante), nonoy tan's "you made me live again" (interpreted by janet basco); odette quesada's "give me a chance" (interpreted by ric segreto) and "till I met you" (interpreted by kuh ledesma) became big hits on the pop charts locally and/or internationally.
shortly before he suddenly passed away in 1985, british pop singer matt monro ("portrait of my love"; "softly, as I leave you"; "from russia with love"; "born free") recorded "be my lady", venancio saturno's losing entry in 1982 and originally sung by newcomer pedrito montaire. the song later became a bigger hit for filipino-american pop singer martin nievera and a subsequent staple in amateur contests, karaoke bars and beerhouse joints nationwide.
two classics in philippine pop music history were originally disqualified metro pop finalists. 1980's preliminary screening topnotcher "dito ba?" (composed by george canseco and interpeted by kuh ledesma) got disqualified after the song became the theme song of gil portes' miss x (a movie about the life of prostitutes in amsterdam produced by sining silangan with vilma santos as lead actor) weeks before the grand finals. metro pop rules had stipulated that songs should not be aired publicly prior to the grand finals. on the other hand, 1981's preliminary screening topnotcher "ako ay ikaw rin" (composed by franklin kleiner and benedict say, and interpreted by nonoy zuniga) was disqualified after it was discovered that one of the song's two composers fell short of residency requirements. just like in the annual bb. pilipinas pageant, metro pop required its entrants to be a filipino citizen on or before a particular date. while officially out of the the metro pop annals, i would still like to believe that the annual contest was tangentially instrumental behind the success of these two songs. both songs received many awards. "ako ay ikaw rin" became the official theme song of the united nations international decade for the disabled. by sheer coincidence, both songs also became breakthrough hits for opm stalwarts ledesma and zuniga.

indeed, the metro pop festival celebrated some of the most memorable efforts in philippine pop culture history. quite often, the festival lived up to its slogan, "today's hits, tomorrow's classics". unfortunately, the festival met its untimely demise when cory aquino rose to power in 1986. still, the metro pop lives on. while some of the metro pop-winning/short-listed songs are unabashedly commercial (it's a pop music festival, remember?), a good number of these festival songs has endured through the years.
proof of this enduring quality is that these 1970s-1980s songs—chan's "minsan pa", 1978; pedero's "narito ako", 1978; snaffu rigor's bulag, pipi at bingi, 1978; charo unite's "lupa, 1979"; bong gabriel's "ang aking awitin", 1979; monserrat and ortaleza's "umagang kay ganda", 1979; willy cruz's "sa duyan ng pag-ibig", 1980; gerry paraiso's "kailangan ko, kailangan mo", 1980; jose mari chan's "hahanapin ko", 1980; mon del rosario's "sino ang baliw?", 1981; gary granada's "aawitin ko na lang, 1981; boy katindig's "away from you", 1982; latonio and moreno's "nothing i want more", 1982; mel villena's "think it over", 1984; "a smile in your heart", 1984; quesada's "you're my home", 1985—have been revived by the likes of sharon cuneta, regine velasquez, gary valenciano, the company, asin, side a, nonoy zuniga, martin nievera, lea salonga, kuh ledesma, rachel alejandro, zsa zsa padilla, ariel rivera, nina and christian bautista. years later, the narratives of "anak" and "till i met you" have been stretched to kilometric proportions to become certified box office hits for vilma santos/claudine barretto and regine velasquez/robin padilla. even tan's "magsimula ka" became a long-running musical starring isay alvarez, robert sena, rina reyes, jograd de la torre, beverly salviejo and many others under the direction of nestor u. torre.

for all of imelda's so-called excesses, the metro pop is indeed turning out to be one of the few positive legacies of the marcos' oppressive regime.
(many thanks to pioneering filipino musical artist/music industry executive roger rigor and nostalgia manila for the added info on the origins of the metro pop. mr. rigor also had a previous reincarnation as a pop idol, being a member of the groundbreaking boyband vst&company during the 1970s and early 1980s)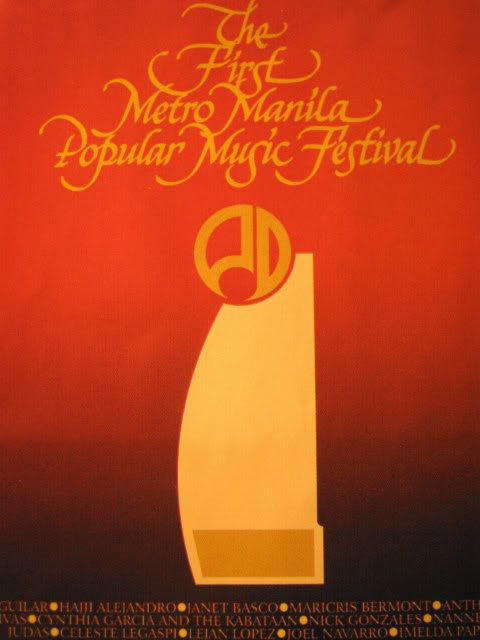 1st metro manila popular music festival (metro pop 1978)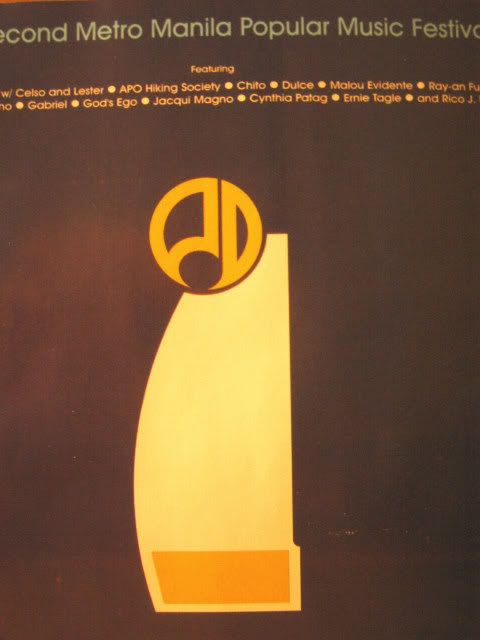 2nd metro manila popular music festival (metro pop 1979)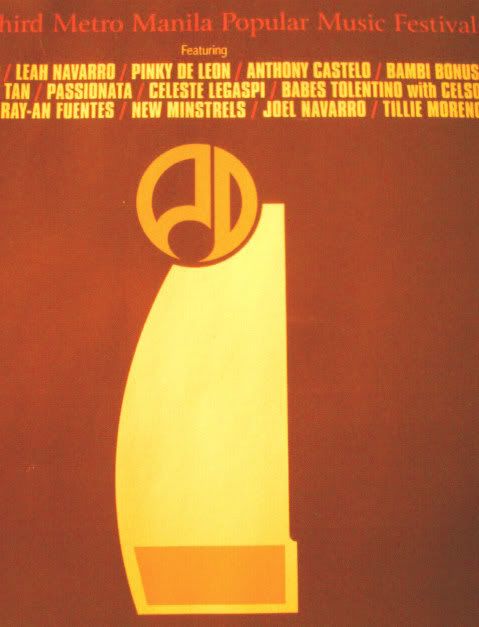 3rd metro manila popular music festival (metro pop 1980)
4th metro manila popular music festival (metro pop 1981)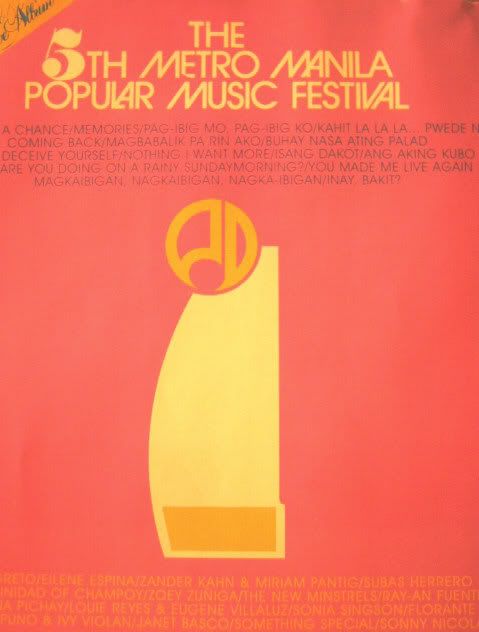 5th metro manila popular music festival (metro pop 1982)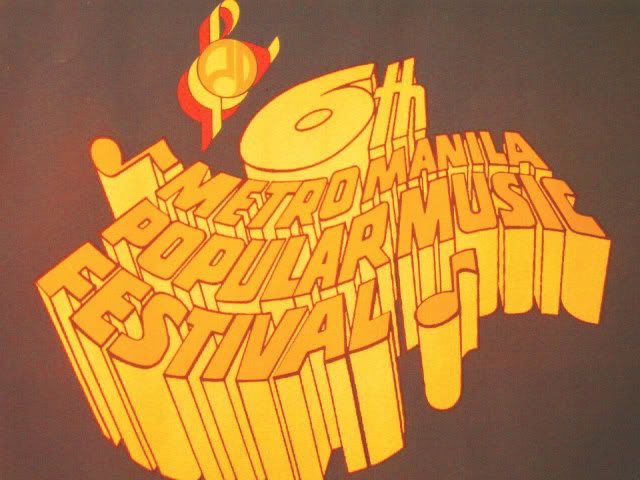 6th metro manila popular music festival (metro pop 1983)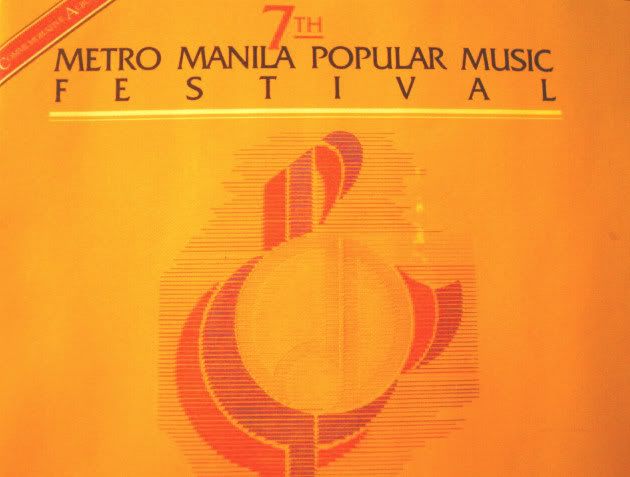 7th metro manila popular music festival (metro pop 1984)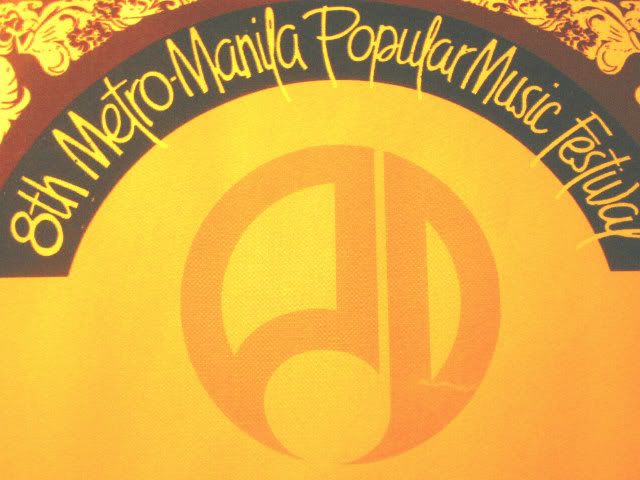 8th metro manila popular music festival (metro pop 1985)
****
postscript
filipino poet soselyn floresca passed away last 26 october in manila. she had a fatal asthmatic attack. suzette and i were batchmates in high school and schoolmates in the university. we were really good friends.

she was also my batchmate at the 18th university of the philippines national writers' workshop (1990). our batchmates were: alexis abola, jim pascual agustin, allan john andres, roberto añonuevo, rolando bajo, nerissa balce-cortes, anna maria gonzales, merlinda bobis, edward cabagnot, fidelito cortes, heidi cruz, teddy espela, rowena festin, gwen grecia, caroline hau, noelle quintos de jesus, ma. eliza lizaso, ma. cristina martinez, maningning miclat, manuel muhi, junephrey ocampo, dinah roma, j.j. alvarez de la rosa, rolando f. santos, lakambini sitoy, flaviana valle and joel vega.

suzette was also a pioneering member of linangan sa imahe, retorika at anyo (lira), a poetry group under the supervision of national artist virgilio almario. the organization launched the literary careers of dennis aguinaldo, rebecca anonuevo, roberto anonuevo, romulo baquiran jr., michael coroza, maningning miclat, vim nadera, edgar samar, luna sicat-cleto, joseph rosmon tuazon and several others. last 6 december 2005, the philippine national commission for culture and the arts (ncca) launched suzette's first collection of poems. she was also a human resource management specialist. she was connected with the asian institute of management (aim) and an n.g.o. for many years.

suzette's family and friends will miss her terribly. please say a prayer for her, if you can.