canberra, the city
canberra is often perceived by outsiders as a dry, uncaring city frequently populated by nerds, politicians and civil servants. that is quite true, of course. but canberra also has a distinctive side. it takes time, however, for people to uncover it.

admittedly, canberra does not have melbourne's intercultural vibe. nor does it contain sydney's breathtaking harbor. even so, canberra has countless museums, galleries and gardens surrounding the fringes of lake burley griffin. it also has a significant number of important landmarks and acquisitions. in fact, otley beyer's philippine collection had been acquired by the national library of australia.

some of the world's finest athletes are training at the australian institute of sports. apparitions of past and present australian olympians like susie balogh (single trap shooting), lauren jackson (basketball), petria thomas (swimming) and a host of others have spruced up canberra's visual landscape. one can easily spot these athletes in malls, restaurants and terminals around the city.

one of my favorite spots in canberra is gus' café. it is strategically located near canberra centre (the city's main shopping mall) along with other food establishments. gus' has become as legendary as canberra itself. during the 1960s, its pioneering owner fought the local government to ensure that the restaurant can simultaneously operate as a sidewalk café. since then, at least half a dozen cafes have sprouted within gus' vicinity.

once in every fortnight, i break out of a.n.u. campus to drop by gus'. most of the time, i gorge on flourless chocolate cake with a scoop of vanilla ice cream on the side. at gus', i get to replicate weeknights and weekends with family and friends back home. it doesn't really measure up, but the stop-over briefly takes me away from academia's various inflexibilities.

even more frequently, i do brisk walking around a.n.u. campus and the nearby lake burley griffin. i would have taken up either landscape architecture, environmental planning or heritage conservation in another lifetime.

every time i do my frequent walks, i get to appreciate walter burley griffin's blueprint for canberra as a livable capital city.

canberra city proper sits on two perpendicular axes. a rather majestic land axis extends from australia's parliament house on capital hill north-eastward along anzac avenue towards the australian war memorial at the foot of mt ainslie. meanwhile, a water axis opens up along lake burley griffin. walter burley griffin's vision for canberra was deeply inspired by the "garden city" movement in landscape architecture and environmental planning. "garden city" takes into account natural vegetation as an integral component of urban design.

in reality, a number of burley griffin's initial plans did not push through. for instance, the plan for trams and trains to go across the city remained in potency.

canberra's expansion slowed down as a result of the two world wars and the great depression. but the man-made lake makes up for these serious absences. lake burley griffin puts the city altogether.

suddenly, my mind takes me back to the devastation of manila during world war 2. planners and conservationists can try to reassemble bits and pieces from the obliteration. but the city will no longer be the haven of collective indigenous and colonial mix that filipinos were once boasting to put on view. filipinos can only create a new vision for manila. then make gargantuan efforts to preserve whatever little can be done with the existing baroque, art deco or art nouveau structures and locations.

australians have every right to take pride in canberra. the more committed ones among its denizens should stay put and make every effort to preserve canberra's unmatched gentility.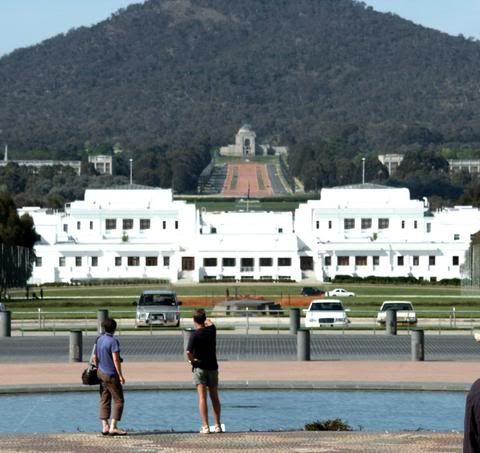 old parliament house, lake burley griffin and the war memorial