major new literary prize established in asia
Man Asian Literary Prize Will Recognise New Works By Regional Authors

HONG KONG - A major new literary prize was launched today to recognise the work of Asian writers and to bring them to the attention of the world literary community. The prize is a joint project of Man Group plc and the Hong Kong Literary Festival Ltd, which together announced the prize's creation.

Called the Man Asian Literary Prize, the award will seek entries from Asian writers for works that are yet to be published in English. Entries will be submitted in English, and the prize is intended to provide a broader platform for the cream of new Asian literature to be brought to the attention of English-reading audiences around the world.


The Hong Kong International Literary Festival, sponsored by Man Investments, is the region's most recognised festival highlighting the achievements of authors throughout greater Asia. Man Group plc (the parent company of Man Investments) is a leading London-based global provider of alternative investment products and solutions as well as one of the world's largest futures brokers. Matt Dillon, Regional Managing Director of Man Investments, Asia Pacific announced its establishment at the conclusion of the 2006 Man Hong Kong International Literary Festival. The first annual prize will be awarded in Autumn2007.


"Through this new prize we aim to foster the publication of new Asian voices in English and to help make those voices more widely heard", Mr Dillon said. "One of the most important tasks facing our world in recent times has been for the English-speaking peoples to have a better understanding of Asian society and culture. We very much hope this prize will encourage that activity". Peter Gordon, Director of the Hong Kong International Literary Festival, said Asian writers were becoming increasingly significant on the world literary scene. "Asia is becoming an important source for new writing for major international publishers and this award will help facilitate publishing and translating of Asianliterature into English", Mr Gordon said.

"Since the purpose of this prize is to facilitate publication and translation rather than to merely reward existing publication activity, the Prize will focus on 'new' works, as yet unpublished in English", he said.


The Man Asian Literary Prize will be administered by a new and independent not-for-profit entity. It is anticipated that the judging panel will be drawn from international literary and academic communities.

The Man Asian Literary Prize has a unique combination of features. It is explicitly focused on Asia, as distinct from, for example, the Asia-Pacific/Pacific Rim. It is based in Asia and it will be for currently unpublis
hed works with the explicit objective of encouraging the publication of more works by Asian writers.

Further details including application procedures, eligibility and prize money will be finalised over the coming months and will be announced in Autumn 2006.

Man Group plc is also the sponsor of the Man Booker Prize for Fiction and the Man Booker International Prize, two of the world's premier literary prizes.
the inaugural hong kong international literary festival (2001)
at the peninsula: alfred yuson, timothy mo, marra pl. lanot, nadine sarreal, wendell capili and reine melvin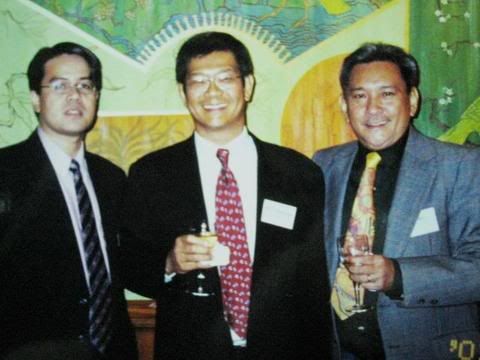 wendell capili, kee thuan chye and alfred yuson during cocktails at the peninsula, hong kong