post/scripts
i spent a great deal of time retrieving old emails and SMS messages. they were mostly queries from friends roaming all the way from manila. here are my thoughts on some of the queries:
the oscars
i was indeed elated when reese witherspoon won because i really like her. but it wasn't a great year for actresses this year. personally, the best actress nominations looked shaky. on the other hand, some of the great male performances were overlooked this year: joaquin phoenix and ralph fiennes deserved nominations for walk the line and the constant gardener.
back home, my round table gangsters dm reyes, ron baytan, carmelo garcia and ralph galan spattered a definitive: heath ledger of perth deserves the male acting prize. but he's no capote, i'd tell them. in the first place, the oscars have never been the supreme measure of (cinematic) excellence. indeed, some past winners are quite outstanding. but people's impressions may also vary over time. quite possibly, hollywood probably regrets its failure to heap top prizes on citizen kane and orson welles. grace kelly was charming in a country girl (a bing crosby movie) but judy garland was clearly superior in a star is born. emma thompson was competent in howard's end but catherine deneuve was more extraordinary in indochine. and the classic case of regret: gwyneth paltrow was ok in shakespeare in love but cate blanchett's acting was a high(er) spot in elizabeth. nicole kidman deserved a prize for gus van saint's to die for and she was not even nominated. just like susan sarandon (dead man walking) and jessica lange (tootsie), nicole ended up winning for the wrong film (the hours). marissa paredes deserved one for almodovar's earlier masterpiece, la flor de mi secreto. gena rowlands was largely ignored for her excellent work in woody allen's another woman. julienne moore has yet to win a prize and greta garbo and hitchcock didn't win any. not in an open competition, anyway. maybe students and aspiring artists should realize that prizes are only good for the artist's personal ego. it's great to win prizes but the struggle to come up with a respectable body of works should be the artist's immediate concern. at the end of the day, people will eventually forget your prize because they will have move on to seek other concerns. i'd say acting prize winners should enjoy the prize and move on to another level. after all, van gogh and emily dickinson did not live long enough to enjoy their "humongous" reputations.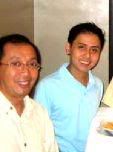 dm reyes and ron baytan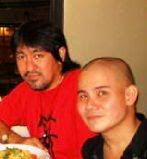 carmelo garcia and ralph galan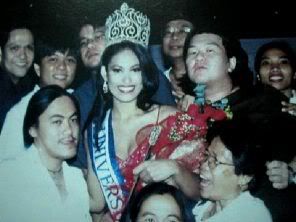 backstage, at the araneta (2000)
nina ricci alagao with friends (l-r) jay lozada, jeffrey jeturian, hugo zacarias "kensai" yonzon, wendell capili, ces evangelista, peter lim, jeffrey jeturian's yaya joni and leo abaya's yaya becky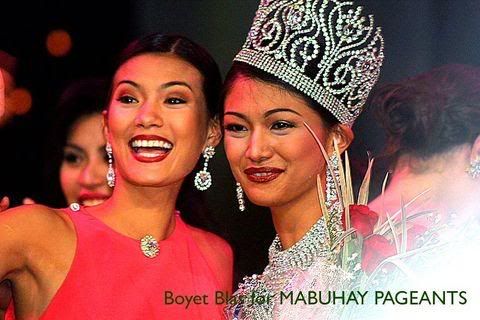 chemistry prof imee martinez& litigation lawyer zora andam (2001)
u.p. diliman's lia andrea ramos during bb pilipinas press presentation (2006)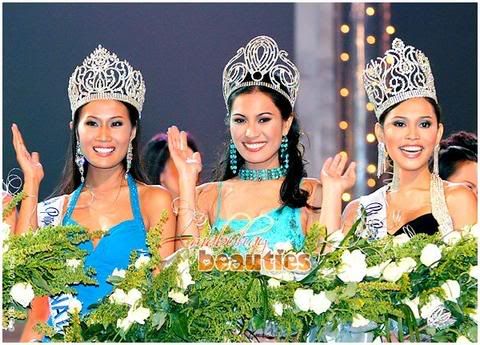 lian ramos with other bb pilipinas winners (2006)

on bb. pilipinas
on another note, my mind went berserk the other saturday night. i was working till 4 a.m. and being interrupted frequently by sms messages from friends who were at the araneta coliseum. by early sunday morning, lian ramos had become bb pilipinas universe 2006 and this particular group of friends was deliriously celebrating. u.p. student leaders jonas gaffud and nad bronce, in particular, had been training lian since 2001 but she kept on saying no at every opportunity. lian decided to finish her b.a. political science degree, then acquire some extensive professional experience working as a visa officer at the royal norwegian embassy before embarking on as assistant program officer for the law component of the asia foundation. i think there are different ways of achieving our goals and being in the limelight can be one such fruitful enterprise. there are good and bad things about pageantry. but if a person has a sound mind and a good heart, then the high profile can be put into some good use. think vida doria, nelia sancho, maita gomez, liz beth de padua, zora andam and now, lian.
lian's victory makes me jump on to another subject: my so-called involvement with pageants. there is no truth to the rumor that i had a hand in the training of these girls who win (nina alagao, zora andam, michelle reyes, lourdes magno, liza dino, gionna cabrera and now, lian). for the record, i don't train and i don't discover. i'm just too busy (not to mention, too ill-equipped) to do that. but i have friends, former students and good acquaintances who either discover, own websites, train or style. all i ever did was, observe and jot down in my journal (for my personal files as a pop culture freak) how
each girl got transformed from awkwardness to grandeur. so people should not be giving me any credit for something others had worked hard on. give credit to jeffrey jeturian or peter lim or boyet blas or jonas gaffud or nad bronce.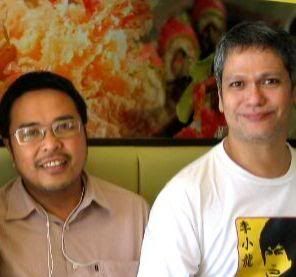 visual artists leo abaya and jay lozada
boyet's family owned lea productions: the company that chartered many high points in the careers of susan roces, fernando poe jr, hilda koronel, eddie garcia, lino brocka and caridad sanchez while producing simultaneously commercial and artistically provocative films such as maruja, wanted: perfect mother, stardoom, santiago, tubog sa ginto, ano ang kulay ng mukha ng diyos (a little-known classic scripted by butch dalisay and megged by lino brocka) and many other memorable filipino movies from the 1960s to the 1980s. taking a break from his important business ventures, boyet generously financed each girl's physical work-outs at either shangrila or gold's gym glorietta. he also spent heaps of money over make-overs, fittings and training expenses---with no strings attached. peter lim designed and
executed some of the gowns and cocktail dresses during events leading to the final night. years ago, joji lloren and ariel lozada frequently gave pointers while jay lozada of propaganda did some work on the styling as leo abaya sounded off some additional critical feedback.
as years went on, jonas gaffud ended up spending hundreds of hours making each girl walk confidently on a 3-6" pair of heels. amazingly, jonas was previously a skillfully-trained cultural geographer at u.p. and a corps commander in another lifetime. after diliman, jonas has transfigured rather successfully into another life form as a fashion and lifestyle guru. these days, he frequently provides modeling opportunities as well as guidance and evaluation for pageant aspirants who train under him. with boyet blas, arnold orosa laboriously takes photographs while maintaining the mabuhaybeauties website. and the philippine house of representatives' nad (real name: roentgen) bronce prepares a dossier of probable interview questions for each girl to work on weeks before each screening exercise. not surprisingly: nad is a political science graduate from u.p.
and jeffrey jeturian? he spots a certain girl while driving along espana and follows her all the way to project 8 (exhibit A: michelle reyes) or u.p. molave residence hall (exhibit B: imee su martinez). unless he gets a phone call from nad and jonas because a certain law student (exhibit C: zora andam) may be persuaded to join because...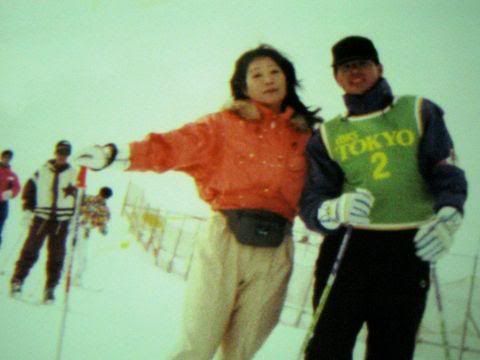 cross country skiing at kusatsu, japan
i have other interests too. and it isn't just pageantry. i love jazz and r&b. and architecture, environmental planning and heritage conservation. i can also talk convincingly about the history of american popular music from the 20s onwards. philippine popular music history is another area not too many people know about and i can talk about it with my eyes closed. not too many people know about my (many) hours of training as a cross country skier at tokyo uni. from then on, i have been looking forward to every major event leading to the winter olympics. and i am not just talking about michelle kwan or figure skating. there was some grief over kwan's failure to finally garner a figure skating gold but i religiously followed the careers of ogiwara kenji (skier) and alicia camplin (aerial freestyler). and i also enjoy watching tennis grand slam events (australian open, wimbledon, the french open and the u.s. open) with the same level of passion as i did when i supported a friend who won a bb title. i am a huge fan of rod laver, margaret court, arthur ashe, navratilova, connors, evert-lloyd, agassi, seles, rafter and quite recently, federer and sharapova.
being in australia, i also ended up learning just a bit more about swimming. luckily for me, the world's finest swimmers--think liesel jones, jodie henry, libby lenton and previously, petria thomas--are training here at the australian institute of sports, some hundreds of meters away from a.n.u. one time, i even froze seeing petria buying groceries at supabarn. i chickened out while contemplating to seek her out for an autograph. i have also achieved quite a mastery of cricket, australian rules football and world cup soccer whenever it's on telly. and i don't usually miss the big finale every time. to be pigeonholed merely as a pageant buff can be very annoying. i have other legitimate concerns as a pop culture fanatic.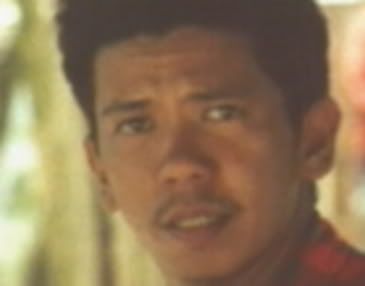 auraeus solito, film director
but i feet very miserable living (temporarily) in australia and not being able to watch my former student (in comm 1, nearly 2 decades ago!) auraeus solito's first full-length film. heard that maximo oliveros is a gem and a must-see. with all the awards it garnered (montreal, singapore, rotterdam, berlin and its subsequent inclusion at sundance, an unprecedented thingie for a pinoy film), not to mention the quality of people who praised the film, i am certain about the film being remembered for a very long time.

when paolo manalo and ian casocot wore short pants to (primary or secondary) school, auraeus struggled to complete comm 1. he had taken it twice before (under extremely traditional and excruciating professors and i am not naming names) but he ended up dropping it because he got so bored with the teachers and the classes. he enlisted to take it the third time, this time under a newly-hired instructor, someone who turned out to be very jologs, very sampaloc-born and bred, just like him. auraeus and i clicked easily so it wasn't too difficult for him to propose a rather wicked idea. he suggested that in addition to the departmental exam, his classmates should be graded on the basis of their participation in his next play, manhid. i gamely obliged. i will always privilege creativity over and above any boring and mechanical exercise.

auraeus charmed then u.p. cssp dean zeus salazar to have the play staged in every nook, dark corner and open space, in, on, outside, above and under u.p.'s palma hall lobby. and he gathered my other students and their friends, boyfriends, girlfriends, lovers and flings to star in or work behind each episode of the production. many of these stars and starlets became prominent names in literature, visual arts, mass media and music: buddy zabala and the other members of the eraserheads, ralph semino galan, johanna cabili, tintin bersola, eugene domingo, wena basco, and so many others. the play became such a huge success, auraeus had to do a re-run for several weeks.

and long before anybody could even take me seriously either as a writer or an academic, auraeus conceptualized and performed a movement based on an old poem i had written in college, entitled dark ritual. i don't even have a copy of the poem now and i don't have any photo or recording of auraeus' direction and performance with wena basco (the huling el bimbo girl ) at the u.p. faculty center (a few months before it was renamed bulwagang rizal). i thought auraeus' concept and rendition were moving but my poem sucked big time. but early in his career, auraeus did a performance based on my work and he has suddenly turned major. i will always consider his graciousness an extremely memorable experience.

somewhere down memory lane, i will end up writing about my former students. there are gazillions of them right now and they have no idea that i have a black book with intricate attachments (read: seat plans, 1x1 pics on index cards and condensed versions of my personal impressions to remember each student by). kidding aside, i remember my students with deep respect and admiration and it has become evident that i have always been privileged to have students who are either creative, diligent or excellent in a particular field or discipline in my classes. clearly, i played no big role in their quests for the big time. but it moves me to realize that i had been called to be an instrument to let them breeze through a phase in their respective lives.