on being different
i was a loner when i grew up by the backwaters of sampaloc, manila. i would pick up books from my grandfather's library and attempt to read each volume aloud. though i couldn't understand many of the words i read, i felt good seeing the magnificence of word arrangement. then i would draw images of nature (clouds, mountains, rivers, plains, islands with customary birds, palms and nipa huts) with pen, pencil, chalk and crayon not only on paper but also outdoors: in walls, floors, streets and fences. or i'd listen to the radio until the music plays on and on, well enough to put me to sleep.

deep inside, i really wanted to be like the other kids on the block. and i tried my best to fit in. but not being adept at basketball or street games like agawan-base, patintero or taguan, i was often ignored or left out in the cold. and at school, i never really excelled academically. nor was i superior elsewhere. i was that little boy who stuttered through recitations. the weakest link during physical education classes. the clumsy little one who spilled food and drinks all over his clothes during recess time. the one kids would laugh and stare at. the kind of mickey mouse bullies would go after.

so i created my imaginary world at home with books, drawings and music. not having too many toys to play with (my father was an honest government lawyer who wouldn't hear of corruption; mom, on the other hand, gave up her job for many years so she can take care of the family), i would play with old eveready batteries and create fictional characters out of these. i would make lilliputian sets out of hangers, matches, ashtrays, shoe laces, strings, ribbons, magazines, cellophane and shoeboxes and direct my own narratives as i had seen these at the back of my mind. the narratives were usually based on fairy tales. i remember staging my own little version of hans christian andersen's "the tin soldier", carlo collodi's "pinocchio" and oscar wilde's "the selfish giant" out of these scrappy things. i also had my adaptation of philippine folk tales and legends (the lanzones one was my personal favorite). i was alone but i was happy.

during breaks between classes, i would normally stand alone in one corner, watching everybody jump over each other as i keep an eye on my lunchbox (containing guava jelly sandwich wrapped in wax paper and sarsi cola inside a tupperware jug) fearing the possibility of intrusion. some kids would steal lunch kits and pass them around as some exotic object. academically, there were least six or seven students lording it over at the honor roll. i didn't think about making it to the top. but i wouldn't allow myself to fail. i made up for my limitations by being focused, driven and determined. i always persevered.

by sheer good fortune, i ended up with the right set of parents, siblings and teachers. elsewhere, i discovered that some people around me were just as isolated. increasingly, i became friends with the misfits. and i remained friends with them. nevertheless, i wouldn't allow myself to stay perpetually at the bottom rung. with diligence and even greater determination, i passed each level that was required of me and got myself successively out of ladders. i defied this or that pundit everywhere, each one previously declaring that i wasn't good enough to achieve anything. and that finally got me to where i am sitting.

my teaching job at u.p. diliman has brought me to many places across the country. these days, it has taken me around the world. still, there are kids who remain isolated wherever i go. many are rebuked, rejected or punished for being different. athletic scholars are particularly condemned for their atrocious grammar. creative students couldn't easily pass artihmetic and science. the nerdy ones remain socially inept. and nobody seems to be around to reverse the order of things. the stage easily belongs to poster boys and girls: those who read, write and speak passably, but who are at the same time, seemingly good-looking, seemingly polite, seemingly well-bred and seemingly "acceptable" to the norms of dominant culture.

though my classes at diliman are generally populated by many of the country's brightest students, many have been just as awkward as i had been when i was about their age. as a result, i end up exerting a great deal of effort to see something positive out of each student, each person and every individual that i bump into in and out of classrooms. there's always strength out of a person's many weaknesses. many times, i have proven this to myself and to life's crazy pundits.

life has always been far from perfect. but i have been directed by some measure of success to encourage people, especially students at uni, so they can finally put an end to oppression running across their daily lives.

little boy lost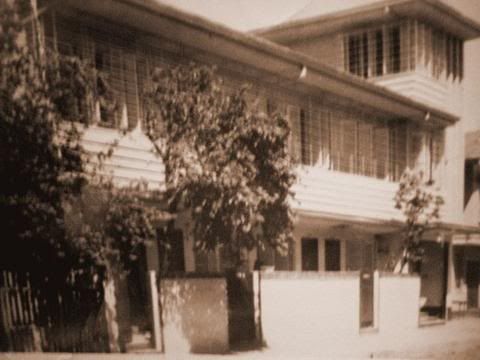 this used to be my playground: apartment units at the back of our house near dapitan and piy margal streets, ca. early 1970s
the back of u.s.t. main building and u.s.t. high school, ca. early 1970s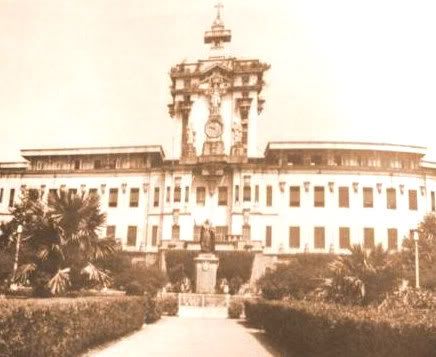 u.s.t. main building, ca. 1970s
my other playground: the junction of dimasalang, laong laan, governor forbes and maria clara streets, ca. early 1970s; these days it is known to most people as "dangwa", manila's flower market
the old house in sampaloc (ca. 1928), as it stands today