tita ester
wonderful surprise. tita ester was in town for a few hours'visit. she arrived with my uncle and a cousin. they were in town to see canberra's annual floriade. since retirement, she's been on a world tour. and although she has to see other family members and friends across new south wales, she made sure she'd be in canberra just to see me.
i always have fond memories of tita ester. she was a hands-on wife and mother. but she was also very hands-on as a sister to my mom and a second mom to me and my siblings. when i was about two and a half or three, she helped me overcome my shyness by making me the ring bearer during her wedding. and she was always very protective of my mother. whenever we ran out of maids, she'd always send her own helpers to do the household chores for mom. she'd never allow mom to suffer a bit.

on her way to work, she'd often drop by our house with goodies like leche flan or spaghetti she had prepared hours before. or she'd make mom go to her house with me and my siblings so we can see her and play with her children.

and tita ester doesn't easily run out of surprises. when she learned that i couldn't afford to buy really expensive materials for my school projects, she'd always ask someone to buy these things for me in cartimar or cubao (famous centers for imported goods during the 1970s) even when mom (who would always insist that i have to live on a tight budget) would say no. tita ester would also spoil me by persistently asking me for a list of the little things i had always wanted. and she wouldn't make me wait for christmas to have these. like having crayola instead of the cheaper colora crayons. or being able to grab the latest adidas athletic shoes when all we could afford was its local counterpart, bata rom. when tita ester did these things, mom would always get mad at me. but being the younger one, mom couldn't do anything to dissuade her sister. tita ester spoiled me and my siblings every time.

many years ago, just before i boarded the plane for my first trip overseas, tita ester also gave me some extra money so i can run to san francisco bay area's ghirardelli square and purchase boxes of what she had remembered as my favorite childhood chocolates. she stood by and watched over me and my younger brother especially when mom had to overcome a near-fatal illness. this happened a few months before tita ester got married. i can only imagine that tita ester had actually delayed her wedding plans until my mom had completely recovered. she cheered up my mom to complete recovery. as i got older, i realized that i have been fortunate to have family members like tita ester. along with my parents and a few other family members, she protected me from seeing the cruelties of the outside world by being there constantly during my formative years.

it is largely because of aunts like tita ester that i have cultivated this particular fondness for my nephews and nieces. though tita ester has kids and she had brought them up very well, she has always treated me and my siblings as her very own.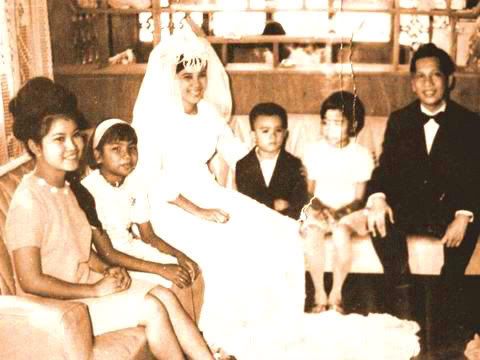 i was not even three when this photo was taken during tita ester and tito roger's wedding
in my office, waiting for tita ester to arrive
tito roger, tita ester and cousin tony outside a.n.u.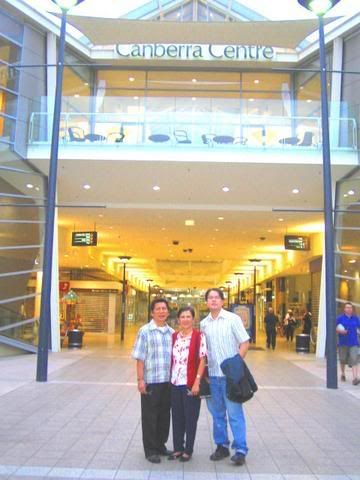 with tito roger and tita ester at canberra centre
Labels: family