bob barker
"come on down", was his catchphrase.
bob barker is one of my all-time pop culture icons. the other day, i caught the news from good morning america—that bob is retiring at age 83. "i want to retire young", he said.
these days, many filipinos wouldn't even know bob barker. but when i was growing up, he was very famous as the host of the price is right. if i am not mistaken, bob was hosting that game show since 1972, the year marcos declared martial law. the philippines didn't have cable television during those days (save for those who lived around clark, subic and other u.s. military installations-they had exclusive access to far east network a.k.a. f.e.n.) but manila's rpn channel-9 (then, the country's no. 1 station) aired past editions of bob's show day and night. and i would religiously watch each episode partly because of the prizes and largely because of what i had considered extraordinary hosting by bob barker.
good morning america had failed to point out that, from 1967 to 1987, bob was also famous as the host of the annual miss universe and miss u.s.a. pageants. he hosted pageants when they were more acceptable and political correctness hadn't gone to people's heads. when manila first hosted miss universe at the folk arts theater in 1974, bob was culture-sensitive enough to speak some tagalog and wear barong tagalog during the proceedings. filipino viewers then loved bob barker. and i got the feeling that the love affair was mutual. during live interviews, bob would normally ask winning questions to filipina candidates in the semi-finals. twice, the winning questions turned into winning answers (in the case of gloria diaz in 1969 and margie moran in 1973). other times, they became particularly memorable performances (in the case of armi barbara crespo in 1972, guadalupe sanchez in 1974, chiqui brosas in 1975, chat silayan in 1980, desiree verdadero in 1984 and pebbles asis in 1987).
In 1988, bob resigned from hosting the twin pageants because he had objected to the use of animal fur coats during each show. he is an animal rights activist and when the fur coats got retained as prizes, he didn't stay on. growing pains star allan thicke and tracy scroggins from the colbys took over at the very last minute. and they were promptly booted out the next year. so did 1982 miss universe karen baldwin with the dynasty tandem of emma samms and john forsythe (1989). charlie (forsythe was that mysterious voice behind the tv and film versions of charlie's angels) was clearly no match to barker's bag of tricks. and while dick clark(1990-1993), leeza gibbons (1990-1992), miss universe 1978 margaret gardiner (1990), miss universe 1987 cecilia bolocco (1993), miss universe 1989 angela visser (1991-1994), arthel neville (1994), bob goen (1994-1996), jack wagner (1998-1999) and miss universe 1997 brooke mehealani lee (2001-2002) were noteworthy replacements, succeeding presenters george hamilton, marla maples trump, shemar moore, sinbad, julie moran, ali landry, elle macpherson, naomi campbell, todd newton, phil simms, billy bush, daisy fuentes, nancy o'dell, carlos ponce, miss u.s.a. 2004 shandi finnessey and queer eye's carson kressley failed to match an original. viewers clearly missed bob barker.
i am not sure if the price is right is still being aired on philippine television. but i do get to catch it when i am overseas. bob barker has so much charisma as he would make you salivate over anything he endorses. he is one big reason why the price is right is still on top of the u.s. ratings, even after 34 years. cbs and the miss universe organization should have known better. immediately after bob resigned, pageant ratings sunk to an all-time low. to this very day, the contest has lost much of its luster and relevance, not to mention the element of excitement and entertainment bob barker had put into every edition of the annual extravaganza.
as years went on, bob became even more popular—and relevant. he founded the dj&t foundation (named after his wife dorothy jo and his mother matilda) to help control the dog and cat population. In 2001, harvard university 's law school established the bob barker endowment for the study of animal rights law to support the engagement of teaching and research in this field. subsequently, bob received numerous other awards and accolades as a television host and an animal rights activist.
meanwhile, as i got older and in spite of my tremendous stage fright, i have been asked to emcee big and small events every now and then. there isn't really anything special about my barangay-level hosting skills. but somehow, i breezed through every time because bob barker has always been my benchmark. i would always attempt to perform in each gig with a vision of bob barker nailing each word that i say.
these days, film buffs would faintly remember bob as the hard-hitting, silver-haired golfer who made his walk-on debut in adam sandler's happy gilmore. i will always remember bob barker as the ultimate emcee, the one who rendered color and authority to the price is right and the miss u.s.a./miss universe pageants.
bob barker hosts the 1974 miss universe pageant at manila's folk arts center
bob barker hosts the 1979 miss universe pageant at perth entertainment centre, australia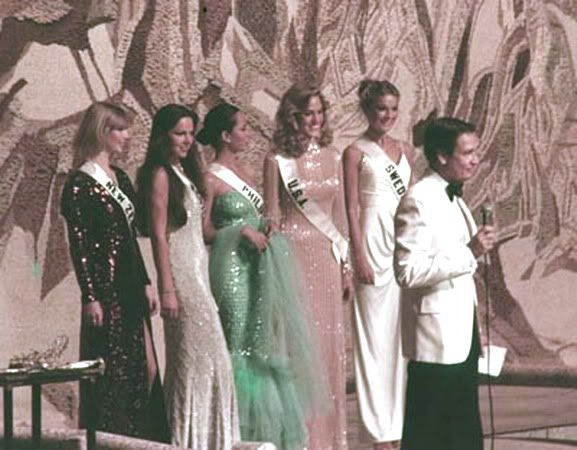 bob barker hosts the 1980 miss universe pageant at sejong cultural center in seoul, korea with (l-r): delyse nottle, new zealand, 2RU; linda gallagher, scotland, 1RU; maria rosario rivera silayan (chat silayan), philippines, 3RU; shawn weatherly, u.s.a., miss universe; and eva brigitta anderson, sweden , 4RU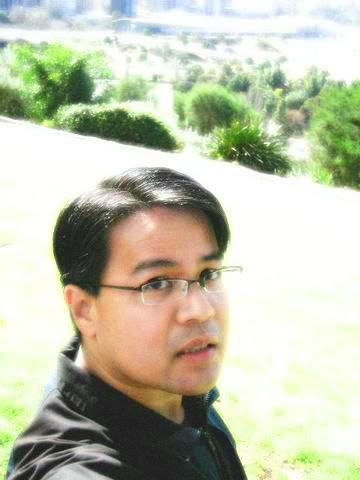 at king's park, with a view of perth entertainment center in the background (august 2005)
****
(Editorial of the Philippine Daily Inquirer published on page A12, 3 November 2006)
IN retrospect, it may be that President Gloria Macapagal-Arroyo was at her most impressive and effective when she was still routinely conducting inspections and behaving as the scolder-in-chief. She was living up to a tradition as old as the Philippine presidency itself. When she materialized in government offices and papers flew -- because she'd caught policemen watching pornographic videos, or officials were absent from the work place, or citizens were tangled up in red tape -- the public not only took a vicarious delight in it, but were reassured that government was where it should be, which is on their side.
But then, desperate to be seen as cuddly and lovable, the President stopped taking officials to task and engaged in gimmickry that was doomed to fail from the start. Her husband also took to suing critics and playing golf. And so it was with a poignant reminder of what could have been -- and in a sense, what should always have been -- that the public read news of Evangeline Lourdes "Luli" Arroyo speaking up for Juan de la Cruz.
She did so at the Ninoy Aquino International Airport. She was incensed over a foreigner jumping the line (VIP, mind you) without so much as a by-your-leave to anyone or an explanation from the immigration officer at the counter. When the President's daughter asked why this was so, the immigration officer made the career-fatal mistake of snapping back at her.

It turned out that the foreigner jumped the line because he was in danger of missing his flight -- and Luli Arroyo was reasonable enough to state that had this been explained from the start, no one standing in the line would surely have objected. The whole thing ended up being a problem of communication. The foreigner was just whisked through without so much as a by-your-leave to those lined up; Luli Arroyo spoke up (and rightly so), only to have a civil servant try to pull rank. And while she has no rank, she was correct to feel that it was anyone's right to ask -- and get an answer.

Had the President's daughter not been in the habit of lining up (even in VIP lanes), she'd never have seen what her countrymen see all the time: people simply ignoring the rules and then getting upset if anyone dares ask why. The low-key Luli Arroyo has always insisted on being treated simply and fairly in public and has received respect for it, unlike, say, her congressman brother Mikey. It has given her the right to ask questions -- and be praised for asking them.

Indeed such have been the steady, unostentatious, fundamentally democratic instincts of Luli Arroyo that we can't help but wish that she was the rule and not the exception both within the President's family and among her mother's officials. A fundamental sense of fair play tempered by typical Filipino reasonableness is nothing uniquely Luli Arroyo's -- it is something shared by most citizens of this Republic. The problem is that it is something alien to those with rank, regardless of which side they occupy in the political divide.

If more officials patiently waited in lines; if more of them gave up their motorcycle escorts and vehicles devoid of any low-numbered license plates and waded through the traffic everyone else endures; if fewer of them lent their official license plates to nephews and nieces in private schools for the purpose of intimidating policemen and running red lights; if all of them insisted on going through what every citizen has to endure -- red tape, long and slow lines in government offices, the hostility of lazy or the curtness of overworked government workers; if more of them, in a word, got angry over official abuse instead of being abusively angry at the citizenry, this country would a better, more harmonious place.

But it isn't, because our officials refuse to lead in the manner we've come to expect, but rarely find, and that is, by example. A citizenry that seldom encounters an official motorcade would be willing to endure the inconvenience of one, because they would acknowledge that the official must really have to attend to an emergency. Instead, official abusiveness has become so familiar that it has bred contempt.

So, bravo, Luli. And boo to everyone else all around.
Labels: bob barker, miss universe, pageants, pop culture, television