first teachers
my mother was my first teacher. when i was three, she made me recite the ABCs then count from one to one hundred before our guests. at age five, i loved rummaging through maps and illustrations of h.g. wells' outline of history. upon learning about this particular fascination, my mother persuaded my father to purchase the reader's digest great world atlas. the book enthused me to fluently memorize names of countries, capital cities, highest mountains, and other geographical facts.
at u.s.t. elementary school, my first teachers sustained my interest in learning more about the world beyond the familiar city streets. miss mila (milagros) bautista was my very first teacher in prep and grade one. she made me a group leader, often asking me to monitor the cleanliness of our classroom and to keep my classmates' mouths shut whenever she took a break. once, i was stricken with flu, she personally brought me to the university health center and patiently waited for my mother to arrive before returning to my classmates who were all distracted with coloring book exercises. when ms. bautista became mrs. villarama, i was very sad because i thought she would be resigning from her job. when she returned after giving birth to her first child, my grade one class deliriously threw a modest party for her. the class brought loaves of bread, slices of kraft cheddar cheese, hotdogs, marshmallows and bottles of sarsi cola and sunta orange to celebrate her coming back. i would not forget mrs. mila bautista-villarama because she saved me from embarrassment many times whenever i couldn't understand texts the class orally read in unison. she knew there was something wrong with my comprehension skills. but unlike some teachers and students, she refused to call me dumb. after each class, she would make me read texts again and again until i finally understood the gist of things. almost thirty years later, i was stunned to discover that i have always been afflicted with attention deficiency hyperactivity disorder. mrs. villarama's creative impulse in sorting out my deficiencies turned out to be what became familiar to us many years later as special education.
in grade one, i also met two other interesting teachers: mrs. sylvia fernandez, who taught me speech communication; and miss aida jurilla, who taught me music.
mrs. fernandez was fully aware of my lapses in speaking and writing. but whenever we had school presentations, she persistently plucked my name either as a lead performer or as part of a chorus. my first public performance was staged at the u.s.t. education auditorium before a thousand or so people. as her pilot grade one students, we were trained to recite "a little boy's prayer", an anti-vietnam war poem. some four hundred grade one students competed for forty speaking parts. though i forgot my speaking lines many times, i remained part of the ensemble mrs. fernandez had selected to perform onstage. i was among the first ten performers arising on top of a platform to directly face the audience. we were all dolled up in colorful jacket tops and trousers. but minutes before our number, mrs. fernandez realized that i was on the verge of a nervous breakdown, cracking up and shivering in fright. mrs. fernandez momentarily pulled me out of the backstage so i can drink a glass of water. afterwards, she motivated me to close my eyes, pray, and offer my performance to the ones i deeply care for. and she also insisted that throughout the performance, i should imagine that only my family and friends are in the auditorium.
i still got frightened the very first time i emerged onstage. but mrs. fernandez hid behind the curtains to keep me cool, calm, and collected. i kept on whispering to myself "for grandpa" and "for mom and dad" as i uttered the first lines: 'now, as i lay me down to sleep, i pray the lord my soul to keep. if i should die before i wake, i pray the lord my soul to take. god bless mommy, little sue, baby John, and most especially, my daddy . . .'
after five minutes, we ended our performance with a bow. and the crowd cheered us on. mrs. fernandez embraced each one of us. then she gave us balloons before we went home.
when i graduated from grade six, mrs. fernandez emceed the proceedings held at the u.s.t. gymnasium. although it was not on the script, mrs. fernandez added the words "consistent honor student" as she called my name. looking back, i always remember mrs. fernandez because she made me realize that one speaks in public to communicate an important thought and certainly not to glorify one's self.
miss aida jurilla, on the other hand, was my music teacher from grade one to grade six. she made quite an impression on me because she looked glamorous without really trying. most of my classmates were initially scared of her because she was very strict. but i was not. i thought she nearly resembled the aura of hollywood stars like lana turner and elizabeth taylor. she had presence. as she entered each class, she always looked regal with pieces of beads, pearls, and other trinkets adorning her neck. miss jurilla taught me how to sing, play the piano, and be aware of rhythm and its nuances. she also introduced hollywood and broadway tunes like "my favorite things" (from the sound of music) and "sunrise, sunset" (from fiddler on the roof), popular American songs like "on top of old smokey"(with cheeky lines that go this way: "…all covered with snow, i lost my true lover, he courted too slow…"), and "the way we were" as well as filipino tunes such as "lulay," "pilipinas kong mahal," and "dahil sa 'yo." she also taught me how to sing the school anthem in english and filipino.
every time i try to write poetry, i often remember ms. jurilla telling my grade one class that music is poetry and poetry is music. ms. jurilla has taught me to prioritize the lyric in my writings. i always recognize ms. jurilla's influence in the development of my poetic ear.
my mother, mrs. villarama, mrs. fernandez, and ms. jurilla were my first teachers. their collective patience, creative energy, and encouragement pushed me to speak, read, and write coherently.

u.s.t. elementary school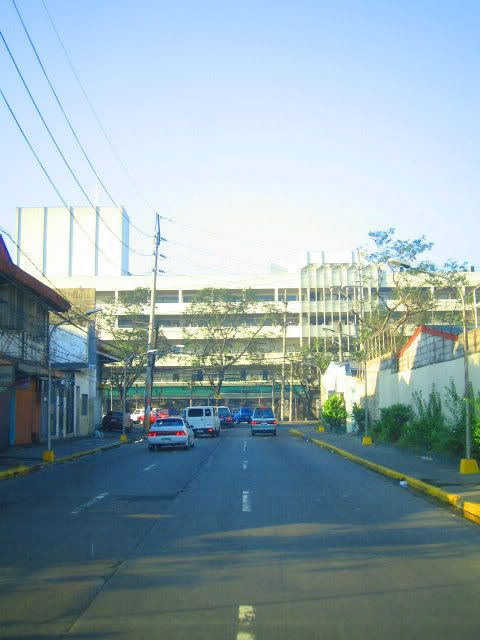 view of u.s.t. education building (where u.s.t. elementary school is) from p. florentino street (towards governor forbes, now arsenio lacson street)
Labels: manila, old manila, sampaloc, sampaloc boyhood, university of santo tomas