floods in sampaloc
sampaloc is usually infested with floods from june to october. one often speculates how it has ever become a thriving neighborhood.

i take pleasure residing in sampaloc because i have many family members, friends and acquaintances living all over the place. i grew up there. but there are instances when floods can be very annoying.

in grade three, i once attempted to go to school alone, despite the heavy rains. there were no announcements from radio and t.v. , but i didn't want to miss school. i had wanted so badly to get a star for perfect attendance by the end of the school year. out of greed, i slipped out of the house and waded through the waters.

upon reaching the corner of carola and dapitan streets, near what used to be the house of aling nita (co-owner of josephine's, the seafood restaurant), i tripped into a manhole, got siphoned into its hollow, then mustered enough adrenalin to pull myself out of danger. back home, i ran to the bathroom, had a quick cold shower, then poured family rubbing alcohol all over my body. i sneaked back to my room where i vowed not to aim for that perfect attendance star ever again.

during the wet weather season, it also became habitual for obedient students from u.s.t., ramon magsaysay, st. jude's, perpetual help, holy trinity and esteban abada high schools to appear in school wearing very unfashionably gigantic, knee-high black rubber boots. i was a geek so i wore these too. but horror stories about the monsoon rains in sampaloc became even more dreadful by the time i started teaching in u.p..

usually, the family chauffer takes me to diliman everyday. but there are days when my parents need the family van and i am forced to take a cab. i have no big problems about commuting (i often made "sabit" riding jeepneys during my younger days) but cabs do resist taking passengers from sampaloc to diliman every time it rains. not even a monumental "i am going to teach! i have a class!" argument can make cab drivers mend their dizzyingly divaesque ways. it really takes more than an hour for anyone to hail a cab in rainy sampaloc.





returning to sampaloc from diliman is easier. but when the rising waters of espaňa threaten the lives of cabs and their engines, i usually ask cabs to take me from u.p. to the point where the floods begin. customarily, i walk from mayon near welcome (now inappropriately renamed mabuhay) rotunda to m. cuenco, towards pi y margal corner antonio maceda. several blocks past the imeldifically-imposing bliss housing units on antipolo and algeciras streets, i finally get home and quickly bathe my legs and feet with lukewarm water. immediately after, i put to rest weird imaginings coming out of every downpour: images of dead plants and animals, old slippers, rubber shoes, party cups, paper plates, candy wrappers, market bags and anything plastic floating on the murky waters.


my most traumatic flood story happened just a few years year ago. coming out of tanya mendoza's salon (the favorite stylist of journalists, pr/advertising practitioners and creative writers like jun lana, ramil gulle, neil garcia, ronald baytan, ralph galan, christian esguerra, nonon carandang, henry barrameda, chris cahilig and many others when they were high school or college students-the shop is located along asturias, near u.s.t.'s dapitan gate; tanya has gone for the big time-he is now one of the resident stylists of t.v.'s eat bulaga and daisy siete) after a haircut, i was devastated to discover that the entire sampaloc area was at least two to three feet underwater in less than an hour. fortunately, an old school mate lived near the area so i dragged him and other friends close by to keep me company eating burgers at a nearby jollibee outlet. i was ever so hopeful that the floodwaters will finally recede.

after two hours, the rains didn't stop. it only got worse. so i said goodbye to my friends and crossed the murky waters along dapitan's entire stretch. the street remained impassable to vehicles until the wee hours.

every time i brave sampaloc's floodwaters, icky things continue to float all over. but sampaloc is home. i overcome grief and exasperation by making plans for the dry season.
espana during the rainy season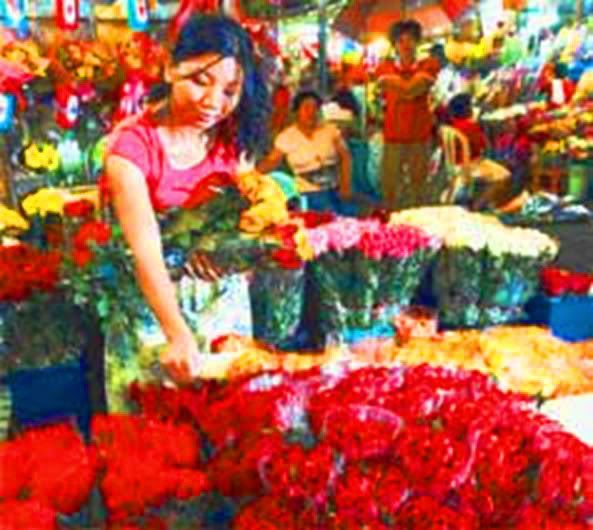 joven cagande's rendition of a vendor selling flowers on valentine's day eve along dos castillas street in sampaloc, manila (cagande's photograph taken from philippine star)

Labels: manila, old manila, sampaloc, sampaloc boyhood