high school teachers
to use marginality as a starting point rather than an ending point is also to cross beyond it towards other affirmations and negations.
- trinh t. minh-ha, in cotton and iron

at u.s.t. high school, my teachers were also very encouraging. class advisers like mrs. leticia pacheco, mrs. milagros ocampo and mrs. zenaida buquid-manego pushed my classmates to make me class president or officer. because class advisers were so influential, my classmates gave in. class positions led to schoolwide positions. eventually, i got exposed to different levels of power relations: teachers against students, students against administrators, students against other students. luckily, my class advisers reminded me often to seek the middle ground. "you can more effective by transforming the lives of others", they always said. in high school, that meant covering up for my classmates' misdemeanors.
english, speech and literature teachers like mrs. lourdes salcedo, mrs. teresa taas, mrs. leilani austria and mrs. norma collantes insisted that i have writing skills. every year, they urged me to take the annual editorial exams for the aquinian, the high school paper. during those days, the aquinian was an enclave for students belonging to the top sections. the paper's alumni roster included jollibee and greenwich pizza top official gina bautista navarette, abs cbn vice presidents joaquin enrico santos and roldeo theodore endrinal, madrid-based corporate property consultant joseph estrellado, pediatrician and businessman noel martin syquia bautista, new york-based prizewinning writers eric gamalinda and bino realuyo, journalist ramil gulle, poet and critic j. neil garcia, singer janet basco, playwright and screenwriter jun lana, and rehabilitation medicine expert jose fernando syquia. initially, i could not get in, not even for positions like "contributor" or "correspondent". i was just an average student. i didn't belong to section one or two. after flunking the editorial exams twice, i stopped writing. still, during my senior year, my english, speech and literature teachers pushed me again to take the annual editorial exams for the last time. after so much anxiety and tension, i took the competitive tests without expecting anything.
days after the exams, i was shocked to find out that i finally passed. even more incredibly, i was going to be a part of the editorial board. the other members of the editorial board were really bright students: erie alcantara (currently, creative director for a top advertising firm), hannelore grace paat (a u.s.-based physiotherapist), linette linsangan (one of our two class valedictorians, she made it to u.p.'s very competitive integrated liberal arts and medicine [intarmed] program; she practices pediatric infectious disease medicine and pediatrics in texas, u.s.a.), francis raymond carandang (finished chemical engineering at u.c. berkeley; he is now a medical officer and pediatrician for the united states air force), and bino realuyo (the prizewinning manhattan-based filipino american poet and novelist).
meanwhile, during my senior year, mrs. collantes made me write a play ("how often is once?"), a thinly-discussed narrative about puppy love and infidelity. staged twice at the high school auditorium between february and march 1983, the writing and direction (credits: all mine) of the play were so-so. but mrs. collantes could not contain herself from proclaiming the play as my "world premiere". i will always thank her for pushing me to experiment with drama and for spending her own money to help produce the play.
on the other hand, teachers like ms. marissa casas and ms. agripina manapat taught me the value of honesty and integrity. during religion and economics classes, they often drew their lessons from relevant local, national and international events. years later, i realized that i was not obsessive over fortune or fame because ms. casas and ms. manapat insisted that i should limit my choices to the few things that really make me happy.
before finishing high school, i was initially declared as the recipient of the fr. silvestre sancho leadership award, a highly-coveted prize for students during my time. because i did not come from the honor sections (i was from section four), two infuential teachers opposed my proclamation. miss casas and miss manapat fought for me, along with my other teachers and organization advisers. soon, the controversy became a battle between teachers. most teachers voted for me. but the very few teachers who were against me were backed up by powerful people. the award was eventually given to a friend who also deserved to receive the prize. on graduation day, my high school teachers cried as they hugged me. "remember everything we taught you", they said. "and prove THEM wrong". i didn't fare too well in high school, but teachers were always there to be on my side.
long before triumphs anywhere, there was u.s.t. high. i was able to cross many borders after high school because i had teachers who taught me how to create spaces where i can heal and fly.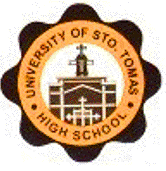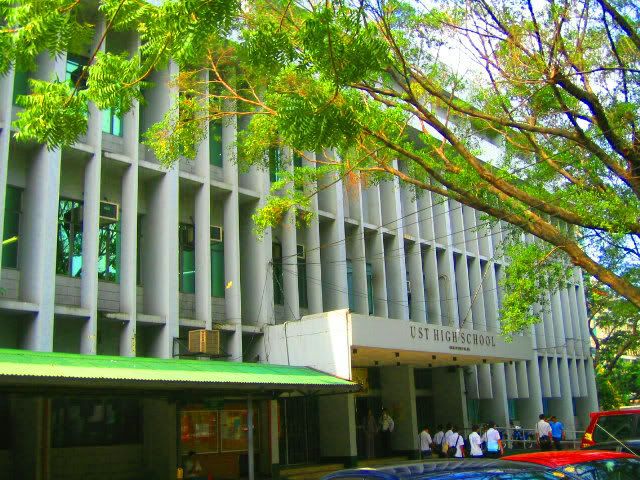 university of santo tomas high school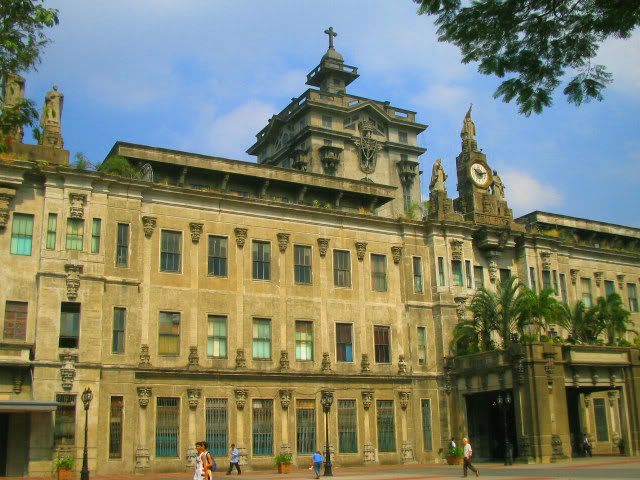 university of santo tomas main building


university of santo tomas grandstand and soccer field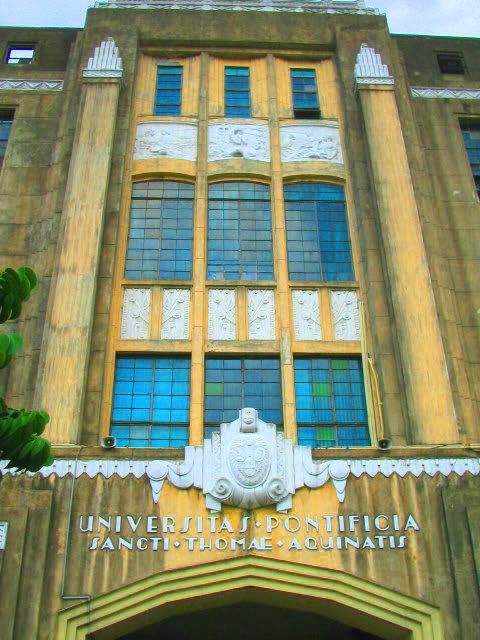 facade of the u.s.t. chapel


behind the main building, what used to be known as colayco park across the high school building

Labels: high school, sampaloc, sampaloc boyhood, u.s.t. high school, university of santo tomas