kubrador wins five urian awards
mlr films' kubrador won five urian awards at the henry lee irwin theater of the ateneo de manila university last thursday. kubrador received prizes for best picture (for producer joji alonso antonio), best director (jeffrey jeturian), best actress (gina pareňo), best production design (leo abaya) and best cinematographer (boy yniguez).
right after the urian awards reception at the chocolate kiss café (u.p. diliman), i joined joji, jeff, leo, bing lao (kubrador's script supervisor) and tita gina at katips along katipunan avenue, quezon city. a small group of friends and colleagues joined the post-awards celebration: ed instrella, andoy ranay, cherry pie picache, jaclyn jose, lito zulueta, agot isidro, paolo paraiso, mylene dizon and jay lozada. jeffrey's yaya joni was all over the place. she was hilarious. certainly, joven velasco was there in spirit. we left katips at
right after, i got home and slept for two hours. i had to be up by i had meetings and classes in u.p. diliman, meetings in morato and alabang till the wee hours. still, i feel great because my friends were recognized by a reputable group of film experts for a job well done.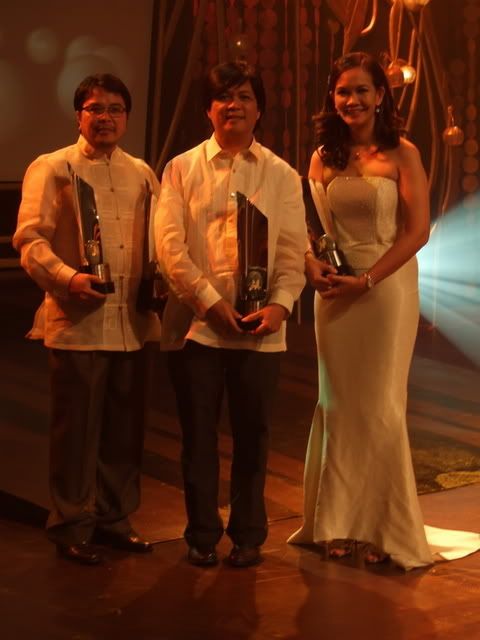 (l to r) u.p. fine arts alumnus and assistant professor leo abaya for production design, u.p. broadcasting alumnus jeffrey jeturian for direction, and u.p. law alumna joji alonzo, for producing the best picture. not in photo are
gina pareňo for actress in a lead role and
u.p. architecture alumnus roberto (boy) yniguez for cinematography.
***
Rustom Padilla, Mark Gil, Gina Pareño top 2007 Urian
(Source: Philippine Daily Inquirer)

MANILA, Philippines—Rustom Padilla and Mark Gil shared the Best Actor trophy in the 2007 Gawad Urian Thursday at the Ateneo de Manila University's Henry Lee Irwin Theater, while Gina Pareño extended her winning run, bagging the Best Actress plum in the yearly cinematic awards given by the country's seasoned movie critics.
Padilla won Best Actor for his role as a conservative homosexual in the fantasy movie Zsa Zsa Zaturnnah Za Moveeh. Gil, on the other hand, won for his portrayal as a troubled tabloid reporter in "Rotonda".
Padilla's victory became extra special with his brother, Robin, presenting the award. The latter won the same award last year for "La Visa Loca." It is Padilla's first-ever Best Actor win.
Gil, on the other hand, also won his first Urian Best Actor trophy after previously winning Best Supporting Actor in the 1980s for the film "Palipat Lipat, Palapit Lapit."
Pareño's win was expected after winning several acting awards in international festivals for the film "Kubrador," which also won Gawad Urian Best Picture. "Kubrador" also had three other awards, including Best Director for Jeffrey Jeturian, Best Production Design for Leo Abaya, and Best Cinematography for Roberto Yñiguez.
"Rome and Juliet," a fresh take on the travails of lesbian relationships, won Best Screenplay for Chris Violago and Connie Macatuno, who is also the film's director. It also became the shining moment for Rafael Rossell, who brought home the Best Supporting Actor trophy.
Meanwhile, Meryl Soriano won Best Supporting Actress for "Rotonda." Having recently given birth, Soriano wasn't able to attend the ceremonies. Her uncle, Mel Martinez, accepted the award in her behalf.
Other Gawad Urian awardees include John Torres, who won the award for Best Editing for the indie film "Todo Todo Teros;" Vincent de Jesus, who took the Best Music award for "Zsa Zsa Zaturnnah Za Moveeh;" and Ronald de Asis, who snared the Best Sound plum for "Tulad ng Dati."
"Putot," megged by Jhek Cogama, won Best Short Film.
The 2007 Natatanging Gaward Urian was given to industry stalwart Marichu Vera-Perez Maceda for her contributions to the local filmmaking.
Labels: armando bing lao, boy yniguez, gina pareno, jay lozada, jeffrey jeturian, joji alonso antonio, kubrador, leo abaya